Mississauga
Address
4020 Confederation Parkway
(at Burnhamthorpe Road West)
Mississauga, ON L5B 0J6

Telephone: (905) 896-7502
Fax: (905) 896-8053
Institution Number:340
Transit Number:  70002
Hours of Operations
Monday to Friday: 10:00 AM to 05:00 PM
Saturday, Sunday and Holidays: Closed
Free Parking for Customers
Entrance to the parking lot is located at the back of the building, on Brick Stone Mews Road.
Parking Ticket Validation
Step 1: Park your vehicle on Level 1 of the parking lot (P1) and DO NOT pay at meter
Step 2: Let us know your licence plate number when you arrive at our branch
Location Map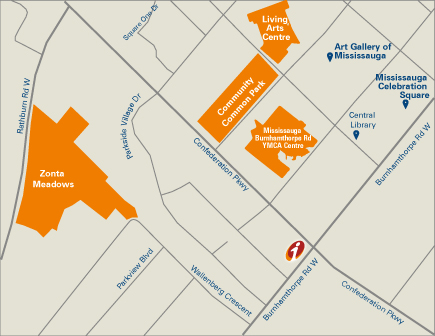 Maps and data are to be used for reference purposes only. ICICI Bank Canada is not responsible for any damages or liabilities due to inaccuracies, availability, use or misuse of the information provided in these maps.